HOTEL EL BAMBU DE SARAPIQUÍ
Located at the heart of Puerto Viejo in Sarapiquí, and neighbors of the exuberant tropical rain forest, Hotel El Bambú offers its clients the most comfortable and pleasant stay. Here, our clients will enjoy our exquisite food in a restaurant "a la carte", relax in our beautiful and extensive pool, read in our comfortable deck, or take a few pictures of the most exotic flora and fauna. Then, rest in one of our well-equipped rooms, after experiencing the great and incredible activities that our Hotel has to offer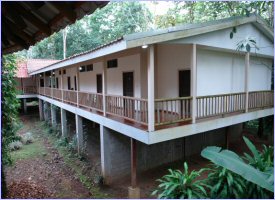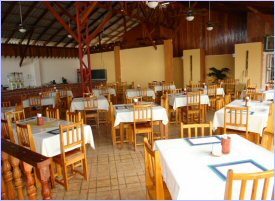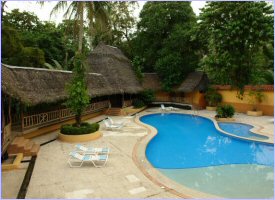 For the daily entertainment of our clients, Hotel El Bambú offers a great 22 by 10 meter (72 by 32 feet) pool for adults and a smaller one for kids.Both are unique in the area and are all done in special ceramics.

As an excellent compliment we also offer our clients mountain bike guided tours for an unforgettable ride among the tropical rain forest trails.

Our hotel also has a nice ranch that can easily accommodate up to 100 people. It has a beautiful view of part of the exuberant flora and fauna and to the swimming pool on the other side. This ranch is used for special events like conferences, meetings, concerts, buffets or simply to relax.

Our restaurants can take up to 100 people each, offering the best-prepared dishes. Come and enjoy the most delicious national and international foods that our restaurant "a la carte" has to offer, among an extensive menu that includes all types of red and white meats, seafood, chinese dishes, some home recipes, typical plates or enjoy the most famous entrees in the area, along with a refreshing cocktail or choose among our variety of liquors.

Hotel El Bambú also offers its clients a "fast food" service where you can choose from hamburgers, fries, hot dogs, sandwiches, entrees, among others and refreshing soda or liquors at our meeting hall called "rancho", or enjoy our delicious buffet service for groups.

There are options for tours and activities available, for more options, your can ask us here...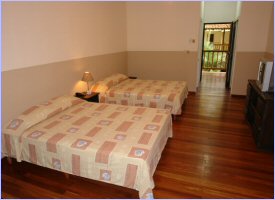 HOTEL EL BAMBU DE SARAPIQUÍ

Other Hotels in the same region...