VOLCANO HIKE AND BALDI HOT SPRINGS
INFORMATION
Starts in
Arenal area

Departure time
8:00 am or 3:00 pm

Duration: Approx 4,5 hours


Recommendations
Comfortable Clothing, Hiking Boots or Tennis Shoes, Binoculars, Camera, Sunscreen Lotion, Repellent and Rain Gear (During Rainy Season).
The Arenal Volcano tour starts with a drive to the active Western side of the volcano.

Once there you will embark on a hike on the Toucans Trail which traverses the rainforest and crosses over a large lava flow from 1992. It is possible to observe a great variety of plants, wildlife and magnificent lava rock formations.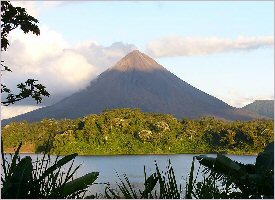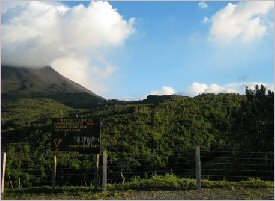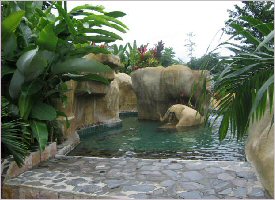 Once on top of the lava flow you will have a beautiful view of Lake Arenal. The hike ends at a viewing area where, weather permitting, you will be able to see red hot lava rolling down the side of the volcano (3 pm tour only). During the tour, our experienced guides will provide interesting and educational information regarding the history of the majestic mountain and the Arenal Volcano National Park.
The tour concludes with a relaxing stop at the mineral hot spring.

Baldi offers thermal hot springs heated by the Areanl Volcano. Explore the multiple pools at Baldi, and relax in the mineral waters surrounded by waterfalls and lush tropical gardens.

Below are just a few of the benefits of emerging yourself into these hot mineral baths:
1) Cleanses the blood eliminating toxins through your pores.
2) Reactivates your metabolism.
3) Relaxes muscles and joints.
4) Helps regulate persons suffering from rheumatism.
5) Rejuvenates your skin.

Enjoy the hot springs at Baldi, and admire the colossal Areal Volcano, while having a dring in one of our pool bars.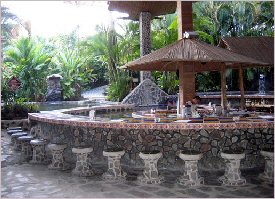 For other Tour options follow this link...

Click to begin creating your Dream Vacation to Costa Rica!