HOTEL CAÑON DE LA VIEJA
Surrounded by beautiful gardens just 30 km from Papagayo Gulf, we offer for the travelers a different way to live the natural beauties that surround the Guanacaste National Parks as Santa Rosa and Rincon de la Vieja.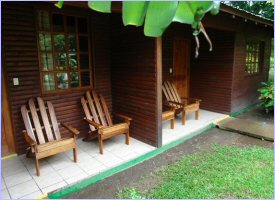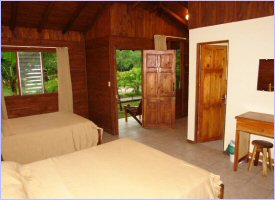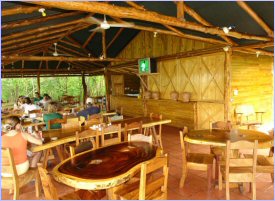 We have 38 cabins equipped with two double beds, a/c, private bath, hot water and terrace in front of the beautiful and refresh swimming pool and Jacuzzi.

We also have a big parking lot, bar, restaurant, and the most exciting activities of adventure like horse tours, Rafting and Canopy by the impressive Canyon of the Colorado River.

We are located 18 km East from Liberia International Airport, in the province of Guanacaste. Just 15 minutes from Liberia, 30 minutes to the Rincon de la Vieja National Park, 30 minutes to Santa Rosa National Park and 45 minutes to Palo Verde National Park.

We are the perfect operations center to visit the most of the natural parks of Guanacaste.

In the environs of Liberia, territory of the Canyon Lodge, with an elevation of 120 m.a.s.l, the climate is dry and warm from December to April, full sun season, Alisios winds and romantic star show nights.

The rainy season normally start in the middle of May and finishes in the middle of November. It is characterized by the green of the landscape, sunny mornings and showers in the afternoons almost every other day. In July and August, we have a beautiful Indian summer.

In our property and its neighborhoods, there are many attractive and enchanted places you do not want to miss :


The Guanacaste Desert
Canopy Tour
Rafting
Rincon de la Vieja National Park
Hiking to the crater
Sulfur hot springs
Trails through six types of Tropical Forest
Las Pailas – Mud pots
Blue Lake (Cangreja)
Crater Von Seebach
Crater Rincon de la Vieja
Santa Maria old house
Linnet bird Lagoon
Hidden Waterfalls
Indigenous cemeteries


There are options for tours and activities available, for more options, your can ask us here...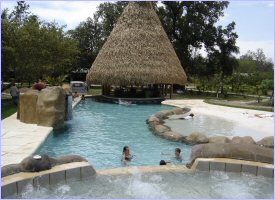 HOTEL CAÑON DE LA VIEJA

Other Hotels in the same region...