HOTEL SUIZO LOCO
The Suizo loco Lodge invites you to delight in a luxurious, relaxing ambience on the Caribbean coast, surrounded by the stunning natural environment of Costa Rica.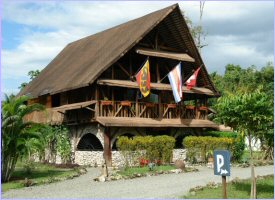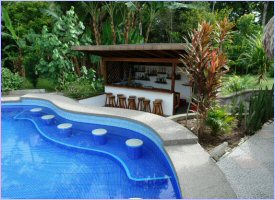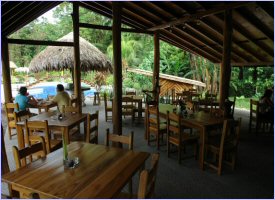 Pool and Bar:
The seductive swimming pool offers refreshment during the whole day. Enjoy an exotic drink at the pool bar or have a swim in the nice cool water …. you will love it. The cozy bar offers a great variety of international and home-made drinks as well as freshly squeezed fruit juices. The "drink of the month" is always surprising, even for us, because it's a fresh invention every time!
The Restaurant:
The restaurant Don Pelón, with its open kitchen. A tender filet, a meat fondue or even home smoked bacon and ham … to mention only some of our delicious offerings. The dishes are fine combinations of native products used in traditional recipes. The "Rösti" for example is made of Yucca roots and the local Chayote replaces the Kohlrabi. It will tickle your palate – let us surprise you!
During our private tours you will have the chance to savor Costa Rica's amazing beauty as our guides divulge the many secrets of this wonderful country. The huge variety of flora and fauna will captivate you!


There are options for tours and activities available, for more options, your can ask us here...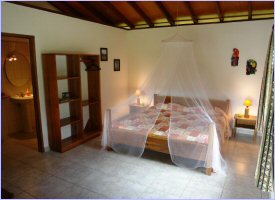 HOTEL SUIZO LOCO

Other Hotels in the same region...