HOTEL TREE HOUSE
Strategically located in the heart of the village of Santa Elena in Monteverde right in front of the church and near the bus stop, supermarket, bakery, police station, several souvenir shops, 2 bars where you can dance or shoot pool and choose between 10 nearby restaurants and cafes.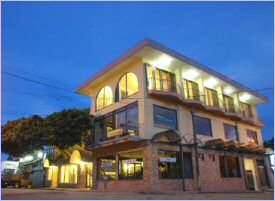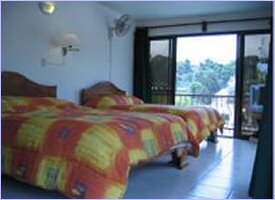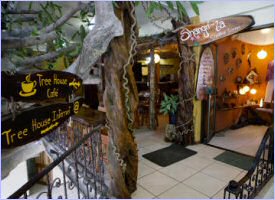 The Monteverde Tree House Hotel offers seven comfortable rooms with commanding views of the village life and the surrounding Monteverde mountains on the third floor of the Monteverde Tree House Tourist Center where you can find the Boemios fine restaurant, and the Tree House @ Internet Cafe on the second floor.

While the panoramic sliding windows have been doubled for soundproofing in this new concrete building, the nearby Bar Amigos comes alive with music and dancing on Fridays and Sundays until 1h am and is not recommended for light sleepers on these nights.

All rooms offered by the Tree House Hotel come with great views, single beds or 2 double bed or 1 King bed (all are new orthopedic mattresses), private balcony with panoramic sliding doors, bathroom with hot water, hair dryer, Cable TV, safety box, fan and reading lamp, 24h security and a nearby safe parking. We also offer one big room with 2 double bed + 5 single beds and sitting area for families or groups and all the amenities of the standard rooms. Breakfast is included in the rate and is served at Tree House Restaurant. Guests of the Tree House Hotel also receive a 15% discount of other meals at the Tree House Restaurant.

Tree House Facilities: Centrally located, parking, restaurant, internet access and wireless internet.
There are options for tours and activities available, for more options, your can ask us here...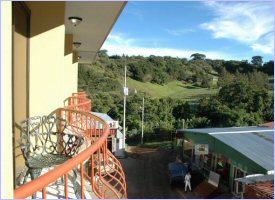 HOTEL TREE HOUSE

Other Hotels in the same region...