TURTLE BEACH LODGE
The Ultimate in Seclusion, Tropical Beauty, and Adventure in Lowland Jungle Rainforest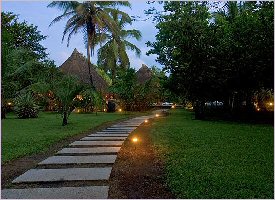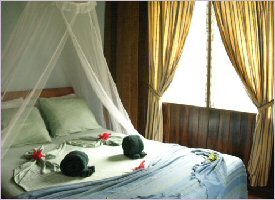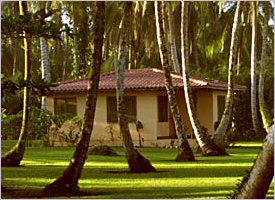 175-acres of beautifully landscaped tropical grounds, jungle, and beach. Including a Jungle Trail and our Private Canal
Comfortable rooms include hot showers, fans, tiled floors, 2 large windows, one double bed, two twins, or one of each per room.
Large thatched-roof, open air restaurant and bar serving breakfast, lunch and dinner daily.
Delightful turtle-shaped pool and hammock hut complex located by restaurant.
A friendly and well informed staff to help you make the most of your stay!
The area of Tortuguero is rightfully called "The Amazon of Costa Rica" because access is only by boat on Jungle Rivers. Turtle Beach Lodge, 5 miles north of the town of Tortuguero, is a secluded resort spanning 175 acres with miles of jungle trails, a meandering private canal, and a half mile of beach adjoining still more isolated beaches.

The lodge accommodates approximately 80 guests; assisted by a well trained staff and guides who ease you into an exciting jungle experience. Stay in the beautifully landscaped cabins, swim in our turtle shaped pool, relax in the adjacent shady hammock hut with food and drink from the restaurant and bar.

From late June to early October the prime turtle season brings thousands of Atlantic Green Sea Turtles to the beaches of Tortuguero. Leatherback and Hawksbill Sea Turtles, in lesser numbers, arrive to lay eggs from November to May. Come join us for the opportunity to look for these Sea Turtles, and watch their young as they hatch and scamper to the sea. Other common sites are Monkeys, Blue Morpho butterflies, colorful poison Dart frogs, Three-toed Sloths, Parrots, Toucans, and many exotic species of birds.

Package Deals: 2 days / 1 night or 3 days / 2 nights

Includes: Bus/Boat Transportation, All Meals, Lodging, Selected Tours.

Recommendations: Hiking shoes, light jacket, sunscreen, insect repellent, binoculars, camera, poncho.

There are options for tours and activities available, for more options, your can ask us here...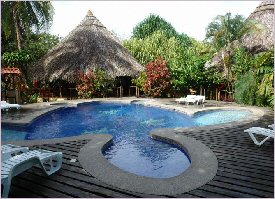 TURTLE BEACH LODGE

Other Hotels in the same region...