WHITE WATER RAFTING PACUARE, 2 DAYS
INFORMATION
Starts in
San José

Departure time
6:00 am

Duration
2 Days

Recommendations
Camera, Water Sandals or Tennis Shoes,Sun Block, Towel and a Change of Clothes.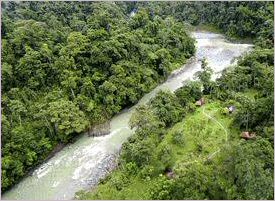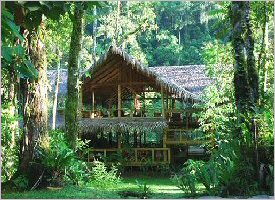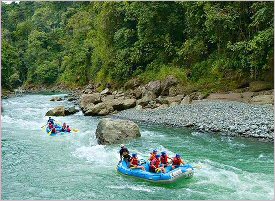 Day 1 White-water rafting to Pacuare Lodge ( Class III rapids)

This exciting outdoor adventure begins when you are picked up at your San José hotel in a comfortable minibus and transported through the old capital city of Cartago and the lush green farmlands blanketing the slopes of the Irazú and Turrialba volcanoes.

Before arriving at the banks of the Pacuare River, you'll stop to enjoy an authentic Costa Rican breakfast. When you arrive at the river, our expert guides will provide you with the rafting gear and explain safety precautions before the rafting adventure begins. Once in the water, you'll experience sheer exhilaration as you face the challenge of each huge wave, battling surging waters down miles of raging rapids.

The river passes through scenic canyons where crystal clear waterfalls plummet down into the rapidly coursing river below. Tall trees and dense green vegetation come right down to the water's edge. The thick undergrowth of this protected area provides shelter for a variety tropical animals and birds, including some endangered species.

The first day on the river is an exciting journey that takes just over an hour and a half. When you arrive at the Pacuare Lodge, you'll find a unique jungle oasis nestled in a most remarkable setting, modern wooden bungalows with thatched palm roofs are spaced out beneath the trees, providing both privacy and serenity. The two-story main lodge has breezy dining facilities on the first floor, and relaxing chairs in the open-air second floor lounge.

After a hearty lunch, you can try the Pacuare Canopy Adventure, take a guided hike to a waterfall in the forest, play dominoes or cards, or just relax. Happy Hour (alcoholic beverages are not included) begins as twilight descends, and the guests can gather to relax and share their experiences. Shortly after, you'll be served a gourmet dinner by candlelight. Whenever you feel ready, you can head to the comfortable bungalow that awaits you, complete with private bathroom, comfortable beds and clean linen.

Day 2 Second section of the Pacuare River ( Class III and IV rapids)

In the morning, you'll awaken to a harmonious melody created by the sound of the river rushing by and the sweet songs of the tropical birds from the thick of the forest. After a delicious buffet breakfast, we'll launch the rafts again for the second day of our river expedition. Rafting becomes even more thrilling as you begin to use the skills and experience gained the day before. You may stop to explore side streams that lead to striking waterfalls and pools with a natural waterslide that tempts you to jump right in.

We'll break for a healthy lunch by the riverbank in a traditional palm-thatch structure owned by a Cabécar Indian family, who recycle our organic waste and wash dishes so that we don't have to use disposable plates and cups. After lunch, well paddle through more adrenaline-pumping rapids and marvel at amazing scenery, such as the narrow canyon of Dos Montañas. After we reach the highway, you'll be able to change into dry clothes before we begin our 90-minute drive back to San José.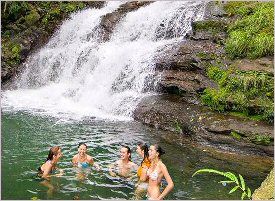 For other Tour options follow this link...

Click to begin creating your Dream Vacation to Costa Rica!