DAMAS ISLAND ESTUARY BOAT TRIP
INFORMATION
Starts in:
Quepos, Manuel Antonio

Departure:
According to tide


Duration
4 Hours

Recommendations
Sun Block, Camera, Sunglasses, Hiking Shoes (Beach Towel and Bathing Suit Optional)
Join us in a cover boat tour through the complex and beautiful estuary system of Damas Island. Our boats are eco-friendly, designed for comfort and your security.

Our naturalist guides will describe a variety of biological relationships between many organisms in this delicate habita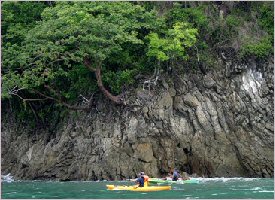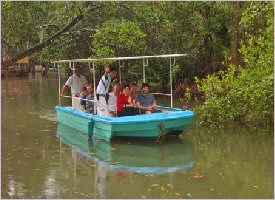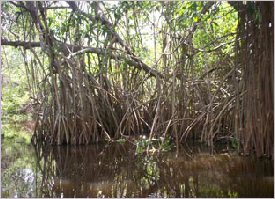 Isla Damas, or Damas Island, is a small (6 km²) island in the vicinity of Quepos. It is particularly noted for its estuaries lined with mangroves. Fauna on the island include white-faced monkeys, sloths, green iguanas, crocodiles, spectacled caimans, boas, crab-eating raccoons and silky anteaters, as well as crabs and numerous bird species.

Boat and kayak tours through the island's estuaries are popular excursions with tourists staying in the Quepos and Manuel Antonio and occsionally Jaco areas.

The key points are conservation, and the wildlife that exists within. This excursion includes an explanation about the history of Quepos and how it was founded.

Always searching for excellence, one will be treated to the latest boats with eco-friendly motors that make this trip a pleasant and unforgettable experience.

The guides are enthusiastic and knowledgeable of the nature within the area. During the excursion you will have drinks and at the end of the tour a memorable Costa Rican lunch or dinner made by a local Costa Rican family.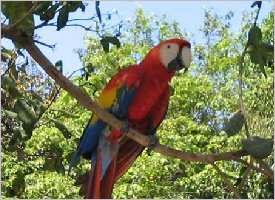 For other Tour options follow this link...

Click to begin creating your Dream Vacation to Costa Rica!