SAFARI FLOAT PENAS BLANCAS RIVER
INFORMATION
Starts in
Arenal area

Departure time
7:30 am or 1:00 pm

Duration
Approx 4 hours

RecommendationsShort Pants, T-Shirts, Sandals, Sun Block, Repellent, Camera, Binoculars, Towel and Raincoat.
Enjoy the sights and the sounds of the rainforest and experience its peacefulness as we quietly paddle the Peñas Blancas river. Monkeys, sloths, iguanas, crocodiles and numerous tropical birds await us!

Our professional bilingual guide will share with you educational and interesting explanations of the plants and animals we encounter on the float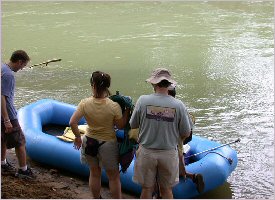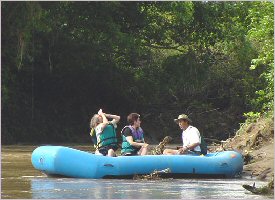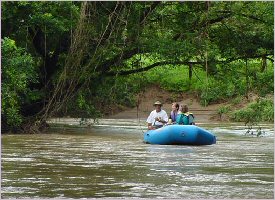 You will truly appreciate the wonders of Peñas Blancas river and the surrounding rainforest as we travel down the river without a motor, this way you will enjoy the journey quietly rowing and taking photos.

This is half day tour specially designed for people with limited amount of time. This trip starts in the Peñas Blancas River about 20 minutes away from La Fortuna. We are on a raft for approximately 2 hours.

We will observe a large variety of animals and may include sloths, monkeys, crocodiles, birds, frogs, and more. While rowing our way down the river, our guide will share important information about species of flora and fauna. After a while we take a short brake to explore primary rain forest and enjoy a snack.

You will never look at the landscape the same way you did before. Now you have discovered all the wonders it hides behind.

A safe adventure for all ages!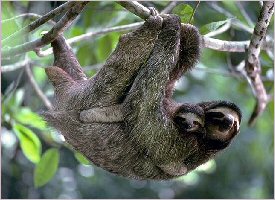 For other Tour options follow this link...

Click to begin creating your Dream Vacation to Costa Rica!