CELESTE RIVER AND TENORIO VOLCANO
INFORMATION
Starts in
Arenal Area

Departure time
Approx 8:00.am

Duration
Approx 10 hours

Recommendations
Good Physical Condition, Long Pants, Bath Clothing, towel, Hiking Shoes, Camera, Binoculars, Sun Block, Repellent and Raincoat.
Mysterious and imposing, in the very bowels of the Tenorio Volcano, manifestations of hidden power transform the union of the Buena Vista and Roble rivers into a sky blue stream, giving birth to one of the most extraordinary phenomenon's of nature: "Light Blue River".

Along the river we'll find hot springs, bends of heavenly tranquility and a waterfall of singular beauty, all surrounded by varied flora and fauna. We leave at 7:30 am from La Fortuna.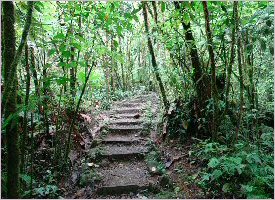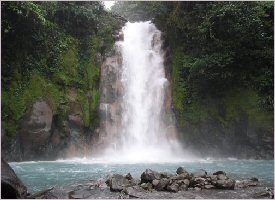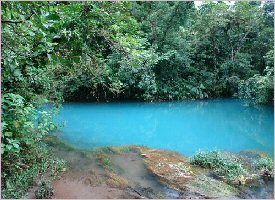 After a typical breakfast in route to Rio Celeste, the tour arrives at the Tenorio Volcano National Park, where our 7 k.m hike begins (approximately 4 hours) through the tropical rain forest.

It will arrive to "Los Teñideros" of the Rio Celeste, the site where two streams of crystalline water come together and form the heavenly color blue that gives the river its name.

The tour returns through trails, rich with ecological wonders, that lead us to the "OLLAS" -- openings in the earth where we can excavate healing muds, take a mud bath, and a dip in the natural hot springs all while observing the attractions of Tenorio Volcano.

We'll continue our hike through the jungle to seek out the volcano's furnace vents that expel gases of extreme high temperatures.

On our decent we will get to see the spectacular Rio Celeste waterfall whose colour makes it one of a kind.

Our final reward is an exquisite Costa Rican typical lunch at the end of our journey, and after that, the ride back to the hotels in La Fortuna.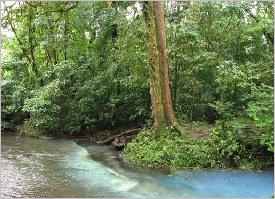 For other Tour options follow this link...

Click to begin creating your Dream Vacation to Costa Rica!