TROPICAL HORSEBACK RIDING
INFORMATION
Starts in
San José

Departure time
Approx 8:00 am.

Duration
9 hours

Recommendations
Camera T-shirt, Long Pants, Rain Jacket or Poncho, Hiking or Sneakers, a Hat or Cap, Sun Block and Insect Repellent.
For this trip, riders are driven to the small town of Atirro, located fifteen minutes from Turrialba. We provide friendly, trained horses that come from high-level stables. Riders will meet in the corral at the stables.

A guide will give a description of what riders will do and see during the tour and give a safety talk on the rules and procedures for this horseback riding trip, such as no running with the horses. A guide and a horse expert will accompany the riders for the trip.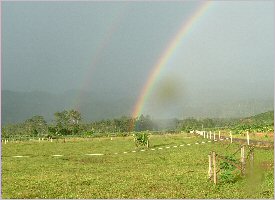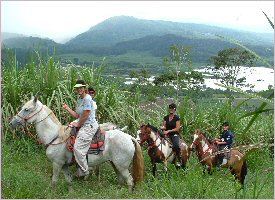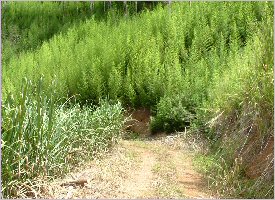 The horse expert will measure the stirrups and select a horse for each rider.

During the two hour horseback riding trip, riders will pass sugar cane and coffee plantations and a secondary forest.

In the forest, the guide will explain the development of secondary forests and the pioneer plants that are being cut down. Riders may see a variety of birds such as, oropendula, black guan, and other animals such as sloth and monkeys. Additionally, the riding tour will take riders to areas with amazing views of the surrounding natural beauty.

Riders will stop to take a break and enjoy a scenic lookout, where the whole Turrialba Valley and surrounding mountains can be seen. Riders will climb and descend small hills making a loop through the land.

Snacks and refreshments are provided for riders at the end of the trip.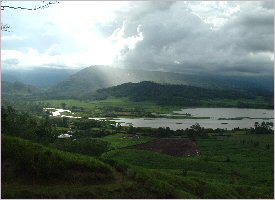 For other Tour options follow this link...

Click to begin creating your Dream Vacation to Costa Rica!